Viking Clan players using the Facebook site who wish to increase their clan size.
Add the date and your Facebook link to the bottom of the list using the following method:
Have a look at this picture first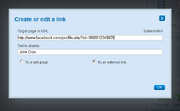 Copy your Facebook link then come back here (from a Facebook tab, click on your name which is next to Home. Your FB link beginning, http://www.facebook.com/profile.php?id= should now be in the address bar at the top of the windoow).
Click on the edit button next to Add Me near the top of the page
Add the date and your name to the bottom of the page ( Ctrl+End to get there)
Select your name That you have just typed (as if you were going to copy it)
Click on the link icon from the toolbar above (3rd from the right)
Paste your Facebook link into the Target page or URL box (if you name does not appear in the bottom box you will have to type it in).
Select OK to close the link box
Click on the Publish button (over on the right)
Complete the Captcha check
And there you go (it is easier than it sounds, honest).
Don't forget to send out your Viking Clan invite after you have accepted a friend request.
To add a name from the list to your Facebook friendsEdit
Before clicking on a link it is a good idea to hover over the symbol at the end of the name. This will usually disploay the link details at the bottom of the window. If it includes www.facebook.com it should be safe.
Click on the link to go to their Facebook home page (or for Windows you can middle click with the mouse wheel to open the link in a new tab)
Names ListEdit
Jan-15-12 David Kilpatrick
16-Jan-12 Belynda
http://www.facebook.com/reglaorue
21-Jan-11 NogginTheViking
21-Jan-11 Alfred
07/13/2012 http://apps.facebook.com/vikingclan/join/recruit/100004068213565 add for viking clan http://www.facebook.com/john.pike.98871
Kano Apps Forum Add Me
Edit
Click here for a list of Add-Me threads for each Viking Clan network/Server.
Available Servers:
Locate your game(s) and network(s) below and leave your Invite Code for others to add you as well.