What Are Favor Points?
Edit
Favor points are tokens used to buy special items and services in Viking Clan. They are the medium through which the developers earn their salaries (apart from Item Crates which can be purchased directly with cash).
How Do You Get Favor Points
Edit
Favor Points are gained by:
Levelling up for 1 FP (Favor Point)
Direct purchase from 10 FPs for US$2 up to 1,200 FPs for US$200
Completing sponsored tasks and offers which pay from 2 - 200 FPs.
Getting more than two matching numbers on a Lottery entry will win you from 5 to 1000 Favor Points
On very rare occasions a location boss payout will drop favor points.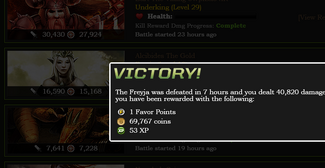 In some countries you can also buy Facebook gift cards which can be exchanged for favor points.
What Can You Do With Favor Points
Edit
You can use favor points to buy:
Full refills of Health (4 FPs) and Stamina or Energy for 10 FPs
10 FPs will buy a quantity of Gold (based on level)
Speakers to allow you post a message on world chat.  These start at 1 FP for 5 Speakers (up to 65 Speakers for 10 FP) Feature removed October, 2014
Hired Chieftains at a cost of 3 hired chieftains for 10 FPs
Special, Limited Sale or Crate items, usually at a cost of from 20 - 30 FPs for a single item
Item Crates, from 20 FP for a single low crate up to 140 FP for a bundle of the 3 highest crates
Previous content
Special, Limited or Sale items

These are better than most weapons and warriors found in the normal course of the game. New and limited items are 25 FP each. "Sale" items of older weapons and warriors cost 22-25 FPs and aren't as good as the newer items.

Example-

New: Raiding Ship
Attack: +73

Defense: +79

25 Favor Pts.
Expires: 1:09:16:39
Sale:

Clover Drakkar
Attack: +66

Defense: +45

23 Favor Pts. 8% Off
Expires: 1:09:16:04