1st December, 2016
Edit
Change to World Chat
Edit
Good news for those who earn a ban in World Chat. Before today a ban would not only stop you from posting in the World tab of chat it would also stop you posting everywhere else except for PMs and your guild's message board. This was a pain if you relied on the Jobs tab to post requests for help for Elites, Recruitment, challenges etc. From now on (according to this forum post) you will only be prevented from posting in the actual World tab of chat.
2nd November, 2016
Edit
Welcome to Græntheimurinn
Edit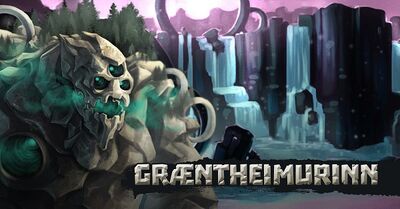 After a gap of more than a year then next location has been released. Not much is known at present except that the new land has an entry level of 16,175 and the random boss drop will be a warrior.
18th May, 2016
Edit
Crafting in Myrkvidr
Edit
Well they didn't quite manage it within the stated week but the devs. have now released the Blacksmith items for the new location. It is a rather poor showing though with only 2 crafts, the elite and legendary versions of the Curseward, the random attack drop of the coop boss for this location. The crafts did initially start off as the ones for Blowpipe but this was only awarded for a kill so I guess they changed it/
17th May, 2016
Edit
Battling on the Go
Edit
Today KANO/APPS launched the official
Viking Clan app for the Android and iOS operating systems. As expected there are a few teething problems, one of the main ones being it expects an email-password combo if you choose server2 but most will have logged into Facebook and chosen server2 from the dropdown at the top when playing on server1. Any problems encountered should be reported to the devs. via the forums on the
announcement thread
or the
official feedback thread
. There is also an
update
thread dedicated to the mobile version.
For those who do download and run the app there is a nice little reward in the form of 25FPs.
The iOS version. (requires iOS 7.1)
13th May, 2016
Edit
How Long Ago?
Edit
The devs. have released a nice little update to some time displays. It is most noticeable on the gift and Coop boss lists. Before up to an hour was displayed in minutes; up to a day in hours and over a day in days. Now times over a day are displayed in days and hours.
4th May, 2016
Edit
Another New Location
Edit
Today sees the launch of the new location, Myrkvidr. The new location starts at level 15,275. As usual location boss and challenges are due to be released next week. This new land should make the top 74 players in the (Facebook/Server1) game very happy.
28th January, 2016
Edit
Raid Boss Disir Released
Edit
Accidentally released on 27th, January the new boss is available to all.